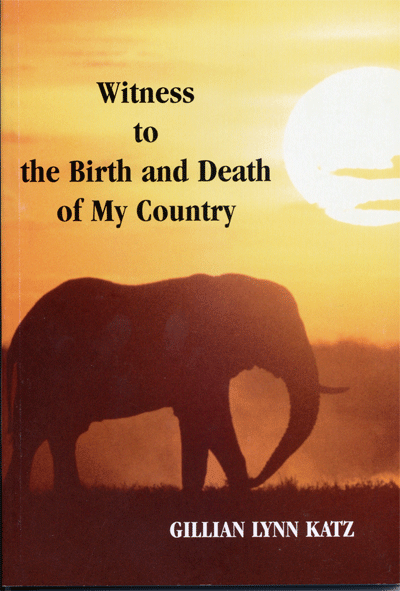 REVIEWS FROM AMAZON.COM
5.0 out of 5 stars

First time author Gillian Lynn Katz makes an impressive debut with "Witness to the Birth and Death of My Country" (GFI Publishing, 1999, paperback) which was inspired by her struggles adjusting to life in the United States after spending most of her formative years in South Africa. She expands on this theme to dramatically capture the impact of the monumental social and political changes which have taken place in South Africa over the past threee decades on not only herself and her family but on all South Africans, both black and white.

Much of this slim volume is autobiographical or based in some way upon the facts and circumstances surrounding South Africa's break with apartheid. The author, who first came to the United States as a teenager in 1966, paints some moving accounts of life for both blacks and whites in her native, as well as her adopted land, during the pre- and post apartheid periods.

Her introspective poems examine the paradox of growing up in the wealth and beauty of South Africa, which seem to suddenly dissapear because of the horrors, created by apartheid.

"Chicken Run," a sweeping and narrative poem, is a poignant depiction of the white South African exodus during the apartheid era, and vivid portrait of the deep and lasting effects of these waves of emigration on the country and its people.

"Weeding Girl," is the story of a black woman who finds that her lot in life is no better in the new anti-apartheid regime.

"Indelibly Black," is about a young South African black man who moves to Los Angeles and finds that he hasn't escaped the guns and tear gas of the police.

"Highjack City," is the story of a privileged young Jewish woman who moves to New York, and in her loneliness, struggles with the difficulty of whether to return home for the funeral of her only brother, who was murdered in the racial violence in Johannesburg.

The essays deal with the sudden recognition that South Africa has changed forever with the ascendancy of Mandela while giving the sense of what it was like to live through history in the making and to realize that one's homeland would never be the same again. The author also talks
about her meeting with Mark Mathabane who wrote "Kaffir Boy," the best-selling, true story of his struggle growing up and becoming a prominent black tennis player in South Africa during the same
period.

In writing the final story, "My Lost Camelot," the author grapples with the resurfacing of painful memories of her lost youth and country, when Princess Diana and John F. Kennedy, Jr. were tragically killed at a young age.

This collection of short stories, poems and essays will make you wish that Ms. Katz would write more about her experiences and those of her countrymen. Reading "Witness to the Birth and Death of My Country" will make you want to delve into books such as "Kaffir Boy" and others of that genre.

The author holds a Bachelor of Science Degree in Communications and Advertising from Iona College, New Rochelle, NY; a Bachelor of Arts in Literature from Purchase College, Purchase, NY, and a Master of Arts in Writing from Manhattancille College, Purchase, New York. She now lives
with her husband and two children in New Rochelle, NY.

Luren Dickenson
Director of Reading Library, Pennsyvania
Touching and heartfelt
By Helen Bagnall on July 4, 2010
Format: Paperback
I have never been to South Africa. I have known only a few white South Africans. And I have heard a lot about the evils of Apartheid over the years. I have read some about the Truth Commision and about Nelson Mandela. But since I have read Gillian Katz's book, "Witness to the Birth and Death of My Country, I feel a deeper connection to the people and their struggles and fears, especially the black South Africans. She has made a way to access their inner feelings and to enter the lives of people on a personal level, whom I would otherwise never get to know. Reading this book has enlarged my world view. I appreciate her writing. She has given me insight into both the blacks and whites and the difficulties that they have faced when immigrating to America. They had to leave the country and families they loved, hoping for a new life in America that is often not what they hoped for, but they had to do the best they could to survive.
Memories of when I left South Africa
By Philip Feinstein on October 7, 2013
Format: Kindle Edition
My congratulations to you on a very deep and moving piece of literature.
Your book and experiences reminded me so much of when I left South Africa in 1972 and my family's reactions to my decision. Turns out that many years later they all said I was right, but I am sure you experienced similar things. Also interesting is that you express some shame at having left. In so many ways I feel exactly the same and that guilt will probably live with me forever. However, I have no regrets. In fact, on my last visit there I managed to track down some of the servants we had (was not easy) and have managed to help them in various ways.

Your book has also helped me realise some of the things that happened in SA after I left and for that I am very grateful.
Thank you also for the summary in your book of Mark Mathabane's book "Kaffir Boy". Apart from "Long Walk to Freedom", it was one of the most moving books I have ever read. It was good to revisit the story via your synopsis.

Gillian, congrats again on your achievement. I shall certainly be letting other ex-South Africans know about it.
Evocative and haunting
By Gregory Doudna on September 1, 2007
Format: Paperback
This collection of two poems, three stories, and four essays reflects on apartheid in pre-Mandela South Africa from the perspective of an uprooted white emigre's memories as a child. The author, Gillian Katz, was 13 years old when her family emigrated to New York City in the 1960s. Accustomed to wealth in South Africa which was forever lost--and which was built on the backs of an unjust system--Katz reflects on the "death of my country", that is, the end of the life she knew under white minority rule, the only country she personally remembered. The later struggles which resulted in the whites' abdication of power to the democratically-elected Mandela were known to Katz mainly from news reports from a distance. In her poems "Chicken Run" and "Pendulum's Justice", haunting and evocative, Katz reflects on apartheid as responsible and to blame for her uprooting from her native land.

In "My Lost Camelot", a non-fiction essay, Katz reflects: "In South Africa we had been sheltered from the news. We didn't have television--this was a direct ploy by the government to keep us uninformed and cut off from the rest of the world. I was completely unaware of the Sharpeville massacre in which blacks were gunned down by police for trying to change the racist system of being forced to carry a pass wherever they went. This historic event took place a mere twenty miles from my home."

In the years since the end of apartheid, I have met white South African emigres who were children in the apartheid era, who have told me the same thing, that they did not know, were not aware, of much of what was transpiring. (And from this arises this USA reader's reflection: are I and my peers, here and now and today, aware of what is happening in our country, that later generations will judge us by?)

Katz uses words and turns of phrases beautifully in recounting her various vignettes and insights. One can only hope for more published writing from this talented author.
REVIEWS FROM FINISHINGLINEPRESS.COM and AMAZON.COM
Rating: [5 of 5 Stars!]
Date Added: Monday 11 June, 2012
With exquisite sensitivity and an unflinching eye, Gillian Lynn Katz has achieved a collection of poetry that invites the reader into an emotionally compelling world. In Kaleidoscope, Katz fearlessly chronicles the turmoil and terrain of an almost royal childhood; navigates the painful journey from her homeland of South Africa to a new and unfamiliar life in America, and concludes with a "third act" filled with the anxieties, triumphs, and truths of her new life.

Katz's poetic voice is both provocative and soulful, and offers a fearless glimpse into the poignant inner world of the modern immigrant, and deftly details, with compassion and artistry, the lyrical nuances of a life lived in exile.

Andi Rosenthal, author of The Bookseller's Sonnets
Eastchester, New York, March 2012

Rating: [5 of 5 Stars!]
Date Added: Friday 01 June, 2012
Gillian Lynn Katz's collection of poems, Kaleidoscope, has created a group of poems embedded in the difficulties of her early life in South Africa.

Each of these poems brings home to us the detailed particularities of that life in contrast to the first world life she lives currently in the suburbs of America.

The political is never handled in a crude way but is instead always brought to us through the subtle explication of the everyday, as in her poem, "Scarsdale," where she compares the verdant life of both continents ending this way: "I still feel the thunderclap:\the cloudburst that blew\ a flower petal\across two continents.

Another quote from one of my personal favorites, "Tin cup, Tin Plate," the opening goes like this, "A white girl with white hands\places a tin cup of milk tea\and four sugars\ on the back door step." The simplicity of the imagery and the starkness of the language makes the white not just the whitest white but carries all the horrors that white and black mean in that sad country from whence she came. Even the phrase back step evokes both black and not the front door.

Ms. Katz's collection has this kind of stark power over and over and I recommend you find this out for yourself by reading this fine collection.

Joanna Clapps Herman
New York City January 20, 2012

Rating: [5 of 5 Stars!]
Date Added: Friday 01 June, 2012
Gillian Katz is a passionate poet. The beauty, longing and intensity of the "petal that blew across two continents" are poignantly alive in her aptly named chapbook, Kaleidoscope.

With generosity, she portrays her early years in South Africa as a white person "free to roam" unlike people of color "who aren't allowed/to call our South Africa/Home."

She describes the everyday workings of apartheid as experienced by a child in her poem "Tin Cup." and in her historical poems "Chicken Run " and "A Drumbeat Cure for Aids" expresses the bitterness of exile from a beautiful homeland where it has become common for white women to wear guns in their brassieres and where others resort to superstitious cures.

In poems reflecting on her changed life in the U.S. and broader topics, Katz links new experiences to flower images remembered from the past and convinces the reader of the ex-pat's heartfelt need to find " a new truth" in new circumstances.

- Ruth D. Handel, poet, writer and teacher, is the author of Reading the White Spaces (Finishing Line Press, 2009) and poems in numerous journals.

Rating: [5 of 5 Stars!]
Kaleidoscope, January 6, 2013
This review is from: Kaleidoscope (Paperback)
Kaleidoscope "If you have known how to compose your life, you have done a great deal more than the person who knows how to compose a book," Michel de Montaigne once wrote. Poet Gillian Lynn Katz has managed to accomplish both in her second book of poetry, "Kaleidoscope." This gifted poet and accomplished author continues to embrace and write about her story growing-up in South Africa during the 1960's as she describes herself as a "white child of Africa." Katz left her country and childhood behind in 1966 at the age of thirteen during the Apartheid Regime, and came to the United States to begin a new life with her parents and sisters.

This modern day immigrant and poet's quest to make sense of her South African past and the life she left behind describes in "Kaleidoscope" the poignant details and memories that have shaped her life. The author's first book: "Witness to the Birth and Death of My Country" is also a lucid and compelling autobiographical collection of poetry, essays, and fiction.

"Although apartheid was pretty brutal in its form," Katz says, "I was really a protected upper class young white Jewish girl who knew nothing of the struggles of the rest of my countrymen until after I got to the United States. Censorship was so great back then that I had no idea what was going on in my country. They didn't even teach us the facts in history lessons."

Katz's unique and sometimes unconventional voice is illustrated in her poem CHICKEN RUN: "Apartheid: you have torn me from my roots, the sunbaked grassland where the baobab tree with its gnarled arms like large octopus tentacles reaches into the burnt orange sky, its trunk as thick as an elephant."

What is particularly striking is the wonderful original imagery of Katz's poetry. In the poem TIN CUP, TIN PLATE, ". . . each piece as thick as a brick smothered in raspberry jam," in SCARSDALE, "I still feel the thunderclap: the cloudburst that blew a flower petal across two continents," and in YESTERDAY - TODAY AND TOMORROW: "My grandparents showed me those flowers that sparkled in the morning dew in Johannesburg gardens of my youth. Now the gardens have changed, There'r different things I do -- In Scarsdale gardens I have a new truth."

Katz allows her instincts to serve her well as she continues to reminisce and draw upon her earlier experiences in South Africa while capturing the memories of her homeland that she loved so well. When asked if she would have liked to stay in South Africa, she replies emphatically, "If the country hadn't been under an insane government, I would have stayed there for the rest of my life and been a lot happier than I was moving back and forth like I did as a teenager." She goes on to say, "I didn't struggle growing up in South Africa. We had a great life there. My struggles happened after I came to the USA with the culture shock and then going back to South Africa, and again coming back to the United States all while still in high school."

As I place "Kaleidoscope" down on my desk while enjoying my morning cup of coffee, I can't help but think of the immortal words of Don Hewitt who would often say, "Tell me a story!" I knew Gillian Katz had done just that.

The author holds a Master of Arts degree in writing from Manhattanville College, Purchase, New York, and has published poetry, creative non-fiction, and non-fiction in various newspapers and magazines. She also teaches creative writing and poetry at the Summer Arts Camp in Scarsdale, New York, and poetry writing at the Scarsdale Adult School.

Alan W. King, MFA, MAW, is a freelance writer
5 Stars: From Pain to Poetry
By Andrew Rose on March 31, 2014
I just finished reading Kaleidoscope. It was a very moving journey and the poet's words portray how deeply her childhood affected her.

Katz's images are gripping, her language musical, her views are candid. I do need to reach out with my empathy for Katz's suffering. The eyes of her childhood witnessed such dreadful behavior and prejudice in South Africa. Sounds like she has also encountered rough times in adulthood. So sorry for her grief but appreciate how she has dealt with pain by writing beautiful poetry.

I highly recommend this book to anyone who loves poetry and has compassion for oppressed people around the world.